Newport Legacy wealth management Seoul Korea Agree to this article.
As summer slides toward autumn and the latest batch of corporate earnings winds down, investors apparently are returning their focus to geopolitical concerns, with Turkey's economy a focal point as tensions between the U.S. and key trading partners continue.
U.S. stocks seemed poised for a weak open following pressure on European and Asian stocks overnight. Major overseas indices fell almost across the board, and Asian stocks sold off aggressively, with China's market taking another dip after some disappointing economic data. The Chinese market continues to struggle.
Moving west from there to Europe, the news continued to roll in on Turkey. In retaliation for the U.S. raising tariffs on Turkish steel and aluminum, Turkey has now doubled duties on some U.S. products. The move comes as worries about Turkey's economic crisis spreading to other regions have pressured stocks in recent days. Those tensions lifted a bit on Tuesday but appear to be on the front burner this morning.
Separately, China has filed a complaint with the World Trade Organization over U.S. tariffs on solar panels. It's the latest in a broad trade dispute between the world's largest economies that has led some to worry about the prospects for global economic growth.
Retail and Financials
In one positive consumer-related note, retail sales data for July released early Wednesday rose 0.5 percent, above Wall Street analysts' average estimate of 0.1 percent. However, the government downwardly revised June retail sales growth to 0.2 percent from the previous 0.5 percent.
Retail companies have come more into focus during the tail end of this earnings season, and it's possible that some rotation into this space helped the consumer discretionary sector outperform the other 10 S&P 500 sectors on Tuesday. A strong retail space where consumers are heading to the stores also seems like yet another indicator that the U.S. economy is rolling along just fine. (See more on consumer discretionary stocks below.)
In retail earnings news, Macy's Inc. M 1.5% reported results before the bell this morning. The retailer reported earnings per share of 59 cents on revenue of $5.57 billion. It also raised guidance. For Q2, M was expected to report adjusted EPS of $0.49, up a penny from last year, on revenue of $5.55 billion, according to third-party consensus analyst estimates. Despite the better-than-expected results, M's shares were down 5 percent in pre-market trading, however. Sales were down year-over-year, and that seemed to be pressuring the stock.
Financials on Tuesday followed as the second best-performing sector of the day, apparently on help from rising bond yields. It was a more "normal" day for that relationship than Monday, when yields were up but shares of financial stocks were down. The fact that the correlation righted itself on Tuesday could have been an indication of an easing in fears about the Turkish currency crisis ending up hurting banks.
Still, worries about a contagion to banks with exposure to the strategically important NATO member that has been struggling with high inflation probably weren't totally gone on Tuesday. That may be one reason that the Russell 2000 (RUT) outperformed the three main U.S. indices on Tuesday, jumping more than 1 percent, and the U.S. dollar, often considered a safe-haven in times of uncertainty, rose against other major currencies.
The gains in the dollar apparently pressured U.S. crude oil. Since that commodity is denominated in U.S. dollars, a rising greenback can dampen demand by making it more expensive in terms of other currencies. Also feeling the strain of a rising dollar may be emerging markets, many of which carry a dollar-denominated debt load (see Figure 1 below).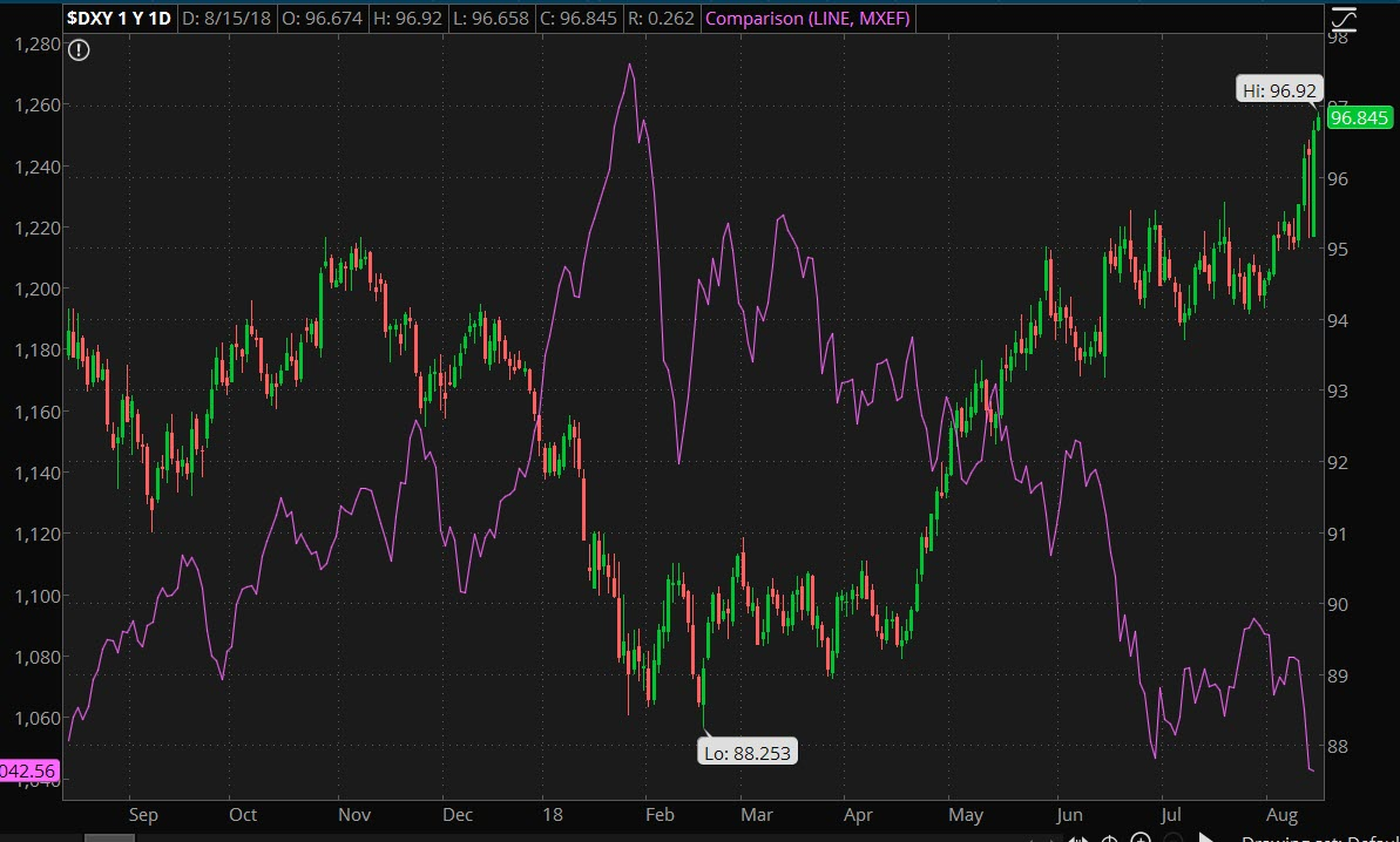 FIGURE 1: DOLLAR STRAINING EMERGING MARKETS? As the U.S. dollar ($DXY) pushed higher in recent months, some emerging markets with dollar-denominated debt could feel the pinch. Note the recent weakness in the MSCI Emerging Markets Index (MXEF – purple line). Data source: Intercontinental Exchange, MSCI. Chart source: The thinkorswim® platform from TD Ameritrade. For illustrative purposes only. Past performance does not guarantee future results.
Fashion and Food
Consumer discretionary stocks were the best-performing of all 11 S&P 500 sectors on Tuesday. The sector got some help from big-name fast food chains McDonald's Corp MCD 0.24% and Chipotle Mexican Grill, Inc. CMG 1.19% as well as retailers Nordstrom, Inc. JWN 0.97% and Macy's. The gains in the sector were broad-based, so it can be hard to pinpoint exactly what was helping individual stocks and by how much. But it's notable that MCD is undergoing a modernization initiative and that CMG is testing out new menu items. In the ultra-competitive fast food world, innovation is key, and we'll have to wait and see how this plays out for the two chains. Meanwhile, M was scheduled to report earnings this morning and JWN to report earnings after the close Thursday. There may have been some investor optimism based on expectations for the companies' performance.
Consumer Sentiment
Given the focus on retail this week, it's perhaps fitting that the market will see a piece of data on Friday related to the U.S. consumer, a key driving factor in the domestic economy as well as global growth. The University of Michigan's consumer sentiment index is expected to come in at 97.8, based on a consensus of economists polled by Briefing.com. That would be just a hair lower than the prior reading of 97.9, of which Briefing.com had this to say: "… confidence remained at high levels due to favorable job and income prospects, offsetting growing concerns it seems about the potential impact of tariffs on the domestic economy." While trade worries have continued to rumble since then, the U.S. economy seems to have also continued to hum along. So perhaps we'll see a repeat of strong consumer sentiment, but we'll have to wait and find out.
GDP Forecast on Tap
The last official figure released for U.S. gross domestic product was a 4.1 percent annual rate for the second quarter. While we're a ways away from seeing the government's first estimate for Q3 GDP, early indications are that it's shaping up to be another solid number with a "4-handle" on it. The Atlanta Fed's GDPNow forecasting model, as of Aug. 9, was predicting a 4.3 percent annualized GDP reading for Q3. The next GDPNow forecast is expected to be released later today. It may be worth keeping in mind that accelerating economic growth can be a good thing, but too much of a good thing can mean the Fed might need to get more hawkish with its monetary policy to keep the economy from overheating.